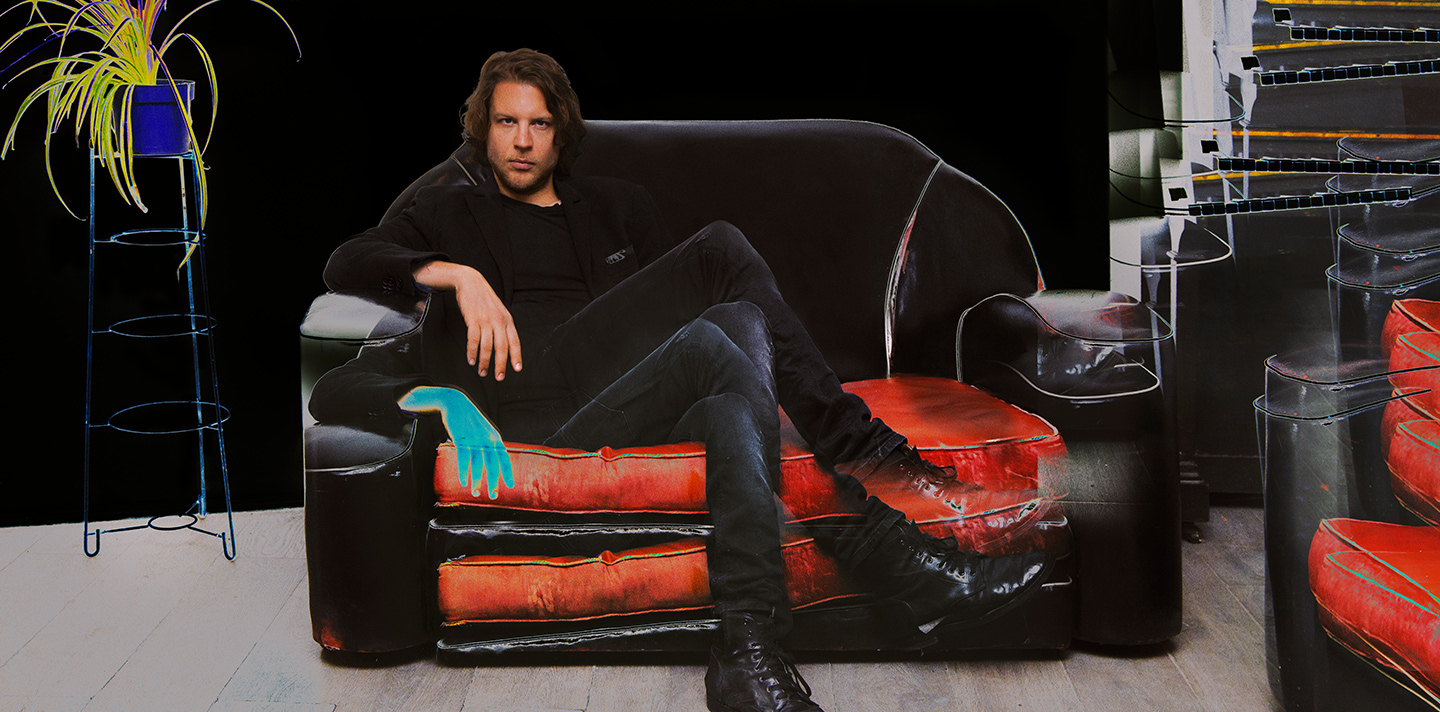 Daniel Brandt is a London and Berlin based composer, producer and filmmaker.
Having had Piano and Drum lessons since the age of 5 he became an active musician in his teenage years performing in various orchestras, big bands, classical ensembles, rock- and electronic bands. He then went on co-founding The Free Electric Band as well as Scott with his school mates Jan Brauer and Julian Schleef in his hometown Wiesbaden.
In 2011 Daniel received a MA of Fine Arts from the Academy Of Media Arts Cologne within the film department. He was participant of the Berlinale Talents program in 2009, RBMA in 2006 and the AKG Scholarship Of Sound in 2010.
Over the years Daniel has created and directed various short films and video pieces which have been featured on international film festivals and media outlets such as London Independent, Chicago IMMF, Mexico International, Amsterdam Film, Oberhausen Short Film. NYC Independent Film Festival, BBC, ZDF, 3Sat, arte, Vice, Dazed & Confused, The Guardian and MTV.
Together with Jan Brauer and Paul Frick he is co-founder of electroacoustic formation "Brandt Brauer Frick" who, as the BBC described it, create 'Concert hall compositions for the clubbing generation' and have so far released five albums on !K7 Records and Because Music, collaborating with artists like Jamie Lidell, Frank Ocean producer Om'Mas Keith, techno icon Nina Kraviz and Einstürtzende Neubauten founding member Gudrun Gut.
As a 3-piece band as well as a 10-piece modern classical ensemble they have performed over 300 shows in 45 countries since their inception in 2009 including nightclubs, classical concert halls and festivals like Glastonbury, Coachella, Montreux Jazz, Lincoln Center, Mutek, Sonar, Southbank, Centre Pompidou, Fabric and Berghain.
In 2016 Brandt Brauer Frick created their first Opera "Gianni" at Deutsche Oper Berlin together with British director Martin Butler based on the story of Gianni Versace's death which concluded in eight sold out performances. The same year Daniel joined "Six Pianos", a group of six pianists, initiated by Cologne based composer Gregor Schwellenbach, performing Steve Reich's piece under the same name and own pieces across German concert halls incl. Cologne Philharmonie and Elbphilharmonie Hamburg.
Their recording of the piece is available via Film Recordings.
The same year Daniel joined Austrian singer/songwriter Anna Friedberg and Berlin based producer Matthias Biermann in California to produce and write songs for Anna's new project Friedberg. The first single "Boom" has been released in early 2019 via London based LGM Records.
2017 saw the release of Daniel's first solo album "Eternal Something" on London based label Erased Tapes achieving wide critical acclaim, Pitchfork calling it "propulsive, tense, and entirely mesmerizing". The album was followed up by a self-produced short film under the same title later in the year and led to the formation of a three piece live band featuring Pascal Bideau on guitar/bass and Florian Juncker on trombone who have since toured Europe and North America.
Later that year Daniel also launched interview series and online TV channel STRRR.TV together with Max Dax (formerly editor in chief of Spex Magazin and Electronic Beats Magazine) to create a horizon-expanding television experience where most interesting people from the world of music, art, design and film present their favorite clips and share their personal stories along with them. Previous episodes have been presented by the likes of BBC host Gilles Peterson, sound artist Pan Daijing, Serpentine Gallery artistic director Hans-Ulrich Obrist, Synthesizer pioneer Jean-Michel Jarre and Berghain bouncer & photographer Sven Marquardt.
In 2018 Daniel released his second album "Channels" again on the Erased Tapes label which was named one of the albums of the year by BBC host Mary Anne Hobbs, this time accompanied by self-directed video clip "Flamingo".
The fifth studio album by Brandt Brauer Frick was released in June 2019 on Because Music accompanied by an interactive video clip that Daniel co-directed with Max Parovsky.
In July Daniel collaborated with German musician Frieder Nagel and Japanese choreographer Fukiko Takase on creating a contemporary version of Wilibald Gluck's "Don Juan" Ballet for Gluck Festspiele Nuremberg. In 2019 Daniel also collaborated with Belgian artist Karel Brussens on "Currents" - a contemporary dance/robotic light installation piece which premiered at Festival Van De Architectuur in Gent in September.
Daniel is also co-running electronic music label The Gym having released music from artists such as Nina Kraviz, Max Graef, Emika and Dollkraut.